In these brief Video Summaries, DPV Group founder Michael Lanning introduces some of the key DPV concepts.
ADOPT A MARKET-FOCUSED PARADIGM
A market-focused strategic/organizational paradigm – DPV proposes to reorient managers' basic approaches to business strategy and organization design. DPV would focus businesses away from the conventional making-and-selling of products and services, and instead toward the discovery, and then disciplined, multi-functional delivery, of profitable, superior Value Propositions.
The profitable delivery of a real Value Proposition is dramatically different from the concept's superficial, popular misapplications. Instead, it is about deeply understanding and then proactively improving or even transforming the relevant actual experiences of customers (businesses and consumers), in return for profit. A winning Value Proposition often includes carefully chosen tradeoffs that customers accept, but in net it must be superior. A business organization must simultaneously design or redesign, and rigorously align, all functions and resources so as to single-mindedly deliver that winning Value Proposition profitably.
This approach differs sharply from the widely accepted strategic paradigm of leveraging your organization's current strengths and competencies, yet differs equally from the fervently-admired marketing practices of listening to your customers. These are the conventional mental boxes in which the Internally-Driven and Customer-Compelled business cultures dwell.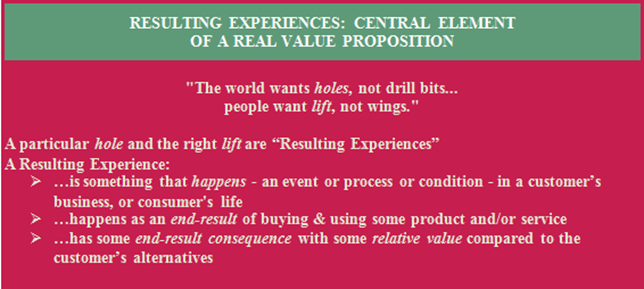 Video: Resulting Experiences
Explore more videos.
A BUSINESS GENERATES WEALTH ONLY BY PROFITABLY DELIVERING SOME SUPERIOR:

A business wins revenues by offering some proposition to customers: essentially, the Resulting Experiences those customers will derive if they do as we propose
Customers perceive relative value in any such proposition and thus, every business delivers some Value Proposition (VP)
If customers perceive a VP as superior, it generates revenue
Video: Southwest Example
Explore more videos.
---
A BUSINESS CAN BE UNDERSTOOD AS A "VALUE DELIVERY SYSTEM"

If the total cost of providing and communicating a superior Value Proposition Is less than the revenues it produces, then the business generates wealth
So a business can be designed to deliver (i.e, Provide and Communicate) a specific Value Proposition (VP)
A business can deliberately search for possible VP's which, if delivered well, could generate breakthrough profitable growth
Video: Tradeoffs
Explore more videos.
---
HOWEVER, THE CONVENTIONAL PRODUCT-SUPPLY PARADIGM FOSTERS AN INTERNALLY-DRIVEN MINDSET AND CULTURE…
Video: Internally Driven
Explore more videos.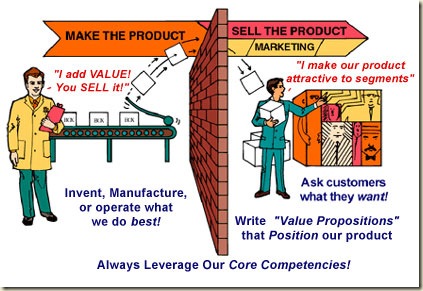 ---
…AND ALSO THE CUSTOMER-COMPELLED MINDSET AND CULTURE
Video: Customer-Compelled
Explore more videos.
Very popular theory: ask customers what to make and sell – listen, and do as 'voice of the customer' says
But this theory is badly flawed in three respects

Customers talk products – not experiences they would value
Offering everything is usually impractical and unprofitable

Rarely differentiates vs. competition
Tradeoffs are often crucial- but customers don't ask for these
They often don't know what experiences they would value

And, many managers are most comfortable listening to entities involved in buying – not others further down the chain.
Copyright © 2023 DPV Group |
Contact:
Email us at
contact@dpvgroup.com
, or phone us at (678) 427-1986.